TROPHY WHITETAIL DEER HUNTING LODGE & ACCOMMODATIONS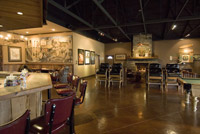 The South Texas Whitetail Deer Hunting Lodge at InFlight Outfitters features over 7,000 square feet of shameless luxury with décor reminiscent of the "Old West". Our large commercial grade all stainless kitchen is just an indication of the level of hospitality we continually strive to achieve. As you enter the Lodge and continue just beyond the pool table and shuffle board table is a massive stone fireplace with soft leather sofas and chairs welcoming your arrival.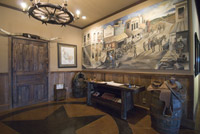 As you peer through large glass windows located on the back wall of this World Class Deer Hunting Lodge you can enjoy the picturesque views of our vast South Texas Deer Hunting Ranch.. There's "Long Hollow" creek with its majestic Live Oak trees, nearby Lake Corpus Christi and a rolling terrain bragging multiple color variations throughout the year.
Situated inside the Lodge is the dining area where our Professional Chefs serve Gourmet meals featuring Southwest Cuisine including Steaks, Quail, Seafood and Wild Game.
As you exit through sliding glass doors onto the back patio and stair-step down near shaded mesquites you will find a circular open fire pit made of stone, providing the perfect location to relax by flaming mesquite logs and gaze upon a stunning starlit South Texas sky.
The accommodations & amenities at this World Class Whitetail Deer Hunting Lodge offer capacity for 42 overnight guests. Amenities include comfortable King and Queen size Tempurpedic & Pillow top bedding complete with premium linens, private baths, multiple large screen HDTV's, WIFI, Swimming Pool and Hot Tub.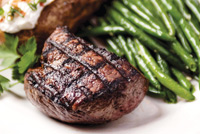 In addition to Whitetail Deer Hunting, our South Texas lodge is also available April through September for corporate and private events. Our amenities, location and scenery make InFlight Outfitters the perfect location for entertaining and hunting with your most important clients and business associates.
Energize your team, enhance their moral and generate new ideas. We'd like for you to consider a Whitetail Deer Hunt or a Private Retreat at our South Texas Hunting lodge as being more than just a change in venue, but a breath of fresh air.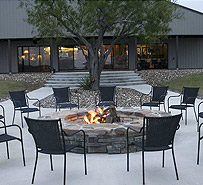 InFlight Outfitters Whitetail Deer Hunting Lodge is available for exclusive engagements, social, private and/ or corporate gatherings. Amenities include 12 Deluxe Rooms, 3 Private Suites, 6 Bunk Rooms, swimming pool & heated spa, theatre room, pool table, shuffleboard, multiple large screen televisions, Skeet/ Trap overlay, Gourmet meals & beverages.
Please contact us to receive additional information regarding our World Class Whitetail Deer Hunting Lodge for your special event.
Visit a gallery