TROPHY WHITETAIL DEER HUNTING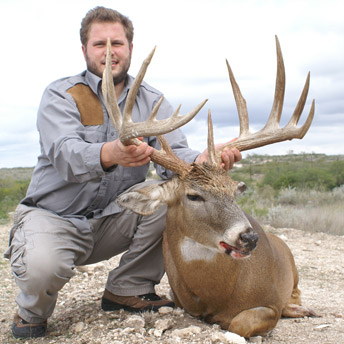 InFlight Outfitters is located on a historic South Texas Ranch along the shores of the Nueces River. This beautiful South Texas Whitetail Deer Hunting Ranch was established in the mid 1800's and is home to a diverse mixture of Native Game, habitat and terrain. Majestic Live Oaks, Mesquite, Guajillo, Prickly Pear Cactus and numerous species of native brush are present throughout the Trophy Whitetail Ranch creek bottoms, draws and rolling hills.
The abundance and variety of native brush located within this Whitetail Deer Hunting Ranch provide a rich source of protein which is an integral component in managing our Trophy Whitetail Deer herd. Our intense Whitetail Deer Management practices include pasture improvements for seasonal forb production and browse, and supplemental feeds which provide additional essential vitamins and minerals. These factors combined with selective Trophy Whitetail Deer genetics have contributed to the success of InFlight Outfitters and the consistent production of Trophy South Texas Whitetail Deer.
The results of our continued Whitetail Deer management program are now offered as a World Class Trophy Whitetail Deer hunting experience. We expect to see many Trophy Whitetail Bucks on each and every hunt and you will receive the opportunity to select and harvest your Trophy Whitetail Buck of choice. Rifle and Bow hunters are welcome as we provide "one on one" and/ or "semi guided" Whitetail Deer hunts. Trophy Whitetail Deer hunting methods include stand hunting, spot and stalk, rattling, and hi rack. Our Trophy Deer Hunting Ranch is located between San Antonio and Corpus Christi and 3 hours from the greater Houston area. We cater to Corporate and personal Trophy Whitetail hunting needs. Our convenient location, comfortable accommodations and amenities, great dining and World Class Whitetail Deer hunting combine to ensure that InFlight Outfitters will provide the perfect setting for your next Trophy Whitetail Deer hunt.
InFlight Outfitters has built a reputation upon the premise of providing World Class Trophy Whitetail Deer hunting opportunities through attention to detail and custom catering to our client's specific needs.
We look forward to your arrival and we truly care about your time spent at the Ranch.
READ MORE